Tartu Library and Art Museum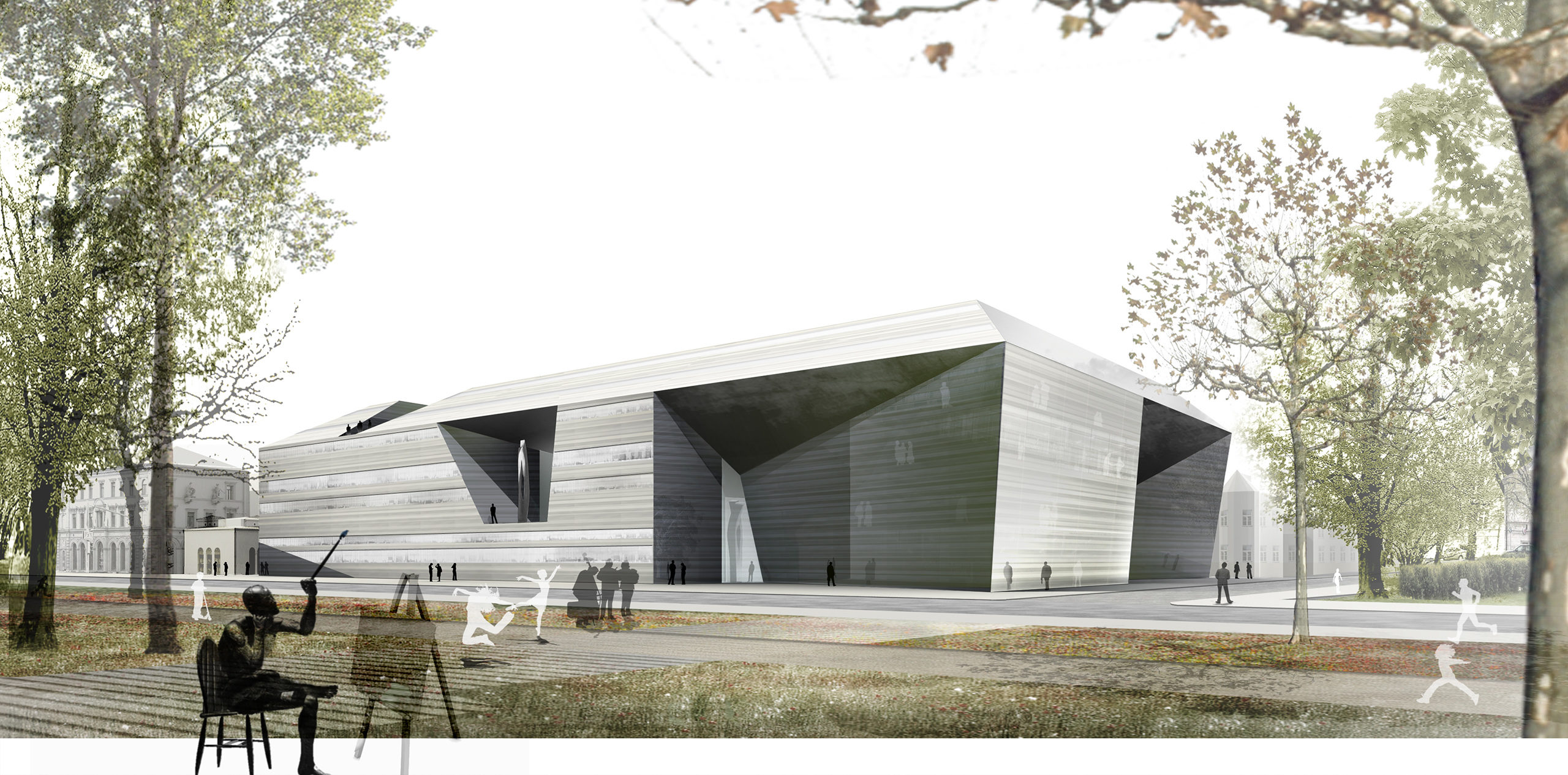 The new building should integrate with historical context and at the same time to be unique, representative and modern. This formal conflict is resolved in one hand by respecting the historical shape of the block and using mineral soft-tone facade materials, but on the other hand, applying the formally modern funnel incisions to resolve urban and functional aspects.
To integrate with the historical city block structure, the height of the cornice of the building Raekoja plats 20 is also used in the whole new building. The roof slope toward the river is lowered to syntonize with the existing neighbour buildings.
Situation: Tartu, Estonia
Client: Municipality of Estonia
Program: Library and Art Museum
Competition:  2nd prize. May 2011
Built area: 20.895 m2
Authorship: Mara Partida, Héctor Mendoza, Boris Bezan (before MX_SI)
Collaborators: Oscar Espinosa, Olga Bombac
Clear orientation – library and museum synergy
The "U" shape of the museum-library complex and the connections of different houses make orientation inside the building very difficult. To minimize and overcome the disorientating effect, the vertical central atrium is placed in the heart of the building in a manner to connect all parts and programs in horizontal and vertical way. Apart of a connecting role, atrium is used as a part of the temporary exhibition space, allowing big vertical artworks to be exhibited. The library visitors are automatically drawn into museum space and vice versa, creating the unique experience to all visitors of the complex.
As the Magistri street is transformed to pedestrian street, the main entrance to the whole complex is positioned in the covered part of the street, directly to the central atrium that enables access also from surrounding streets, improving the pedestrians fluidity in the whole block and wider area.
Entrances into existing historic buildings are maintained for internal use – administration. The garage ramp is positioned on the south-west corner, towards the electrical transformation station. Logistic entrance for museum is located also on this side and designed in the manner to allow secure and direct access to the interior with TIR trucks. The covered part of the Magistri street, close to the main entrance and book handling area, is proposed to be used for unloading area for the smaller trucks that bring new material into the library.